Law Enforcement Weapon Shelving Systems from Combat Weapon Storage Systems
Law Enforcement Weapon Shelving Systems allow for a Ready to Go arms room environment. Popular with police armories requiring rapid access and multiple configuration possibilities, Combat Weapon Shelving shines brightest allowing storage of all rifle types with common components. Rugged, reinforced back panels with heavy gauge steel provides rigidity required to store all weapons and gear.
Property & Evidence rooms with responsibilities to store various rifle types and sizes can also benefit from our system flexibility, allowing confiscated weapons to be stored without regard to the size of the weapon, again using common components.
A simple section of Combat Weapon Shelving will store 24 rifles, and with various sizes to fit your space we have numerous dimensions available, we do not offer a one size fits all solution.
| | |
| --- | --- |
| Heights Available | 48" (single tier), 78", 84" |
| Widths Available | 24", 30", 36" |
| Depths Available | 15", 18" & 27.9" (double sided) |
Please call 800-699-1191 or fill out our contact form for GSA Pricing.
Fill out our contact form to request our weapon storage brochure as well as to request pricing for your weapon storage requirement.
| | |
| --- | --- |
| | |
| Single Sided with Adjustable base | Double Sided with Rifle Base |
| | |
| Weapon Shelving on Mobile Carriages | Weapon Shelving for all weapon types |
| | |
| Create Long Ranges of Shelving | Pistol Pegs, Dividers & Shelves |
| | |
| Single Sided Weapon Shelving | Mobile Shelving Weapon Storage System |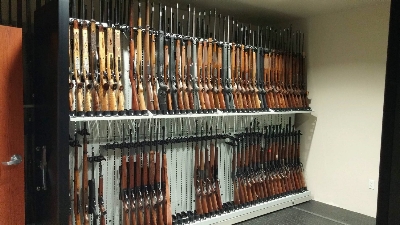 Forensic Firearm Laboratory Weapon Storage